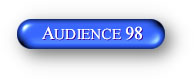 The Effect of
On-Air Pledge Drives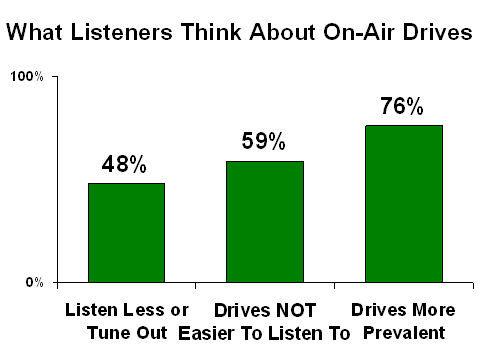 A new and encouraging fact has emerged amid criticism of public radio's on-air fund drives. According to AUDIENCE 98®,

Listeners who perceive that drives are getting easier to listen to are very likely to keep listening during drives.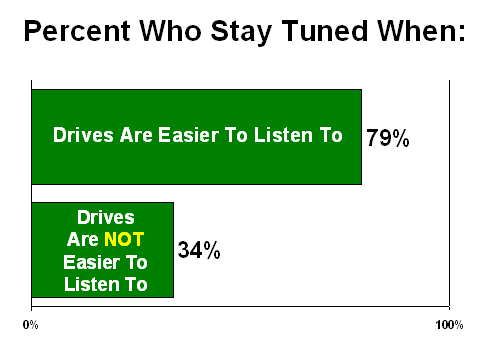 This is good news, as it strongly suggests that improvements we make in our drives will further encourage people to listen to them.

But since most listeners say that fund drives are NOT getting easier to listen to, we have our work cut out for us.

To get this work done we should understand the links between listeners and their attitudes toward on-air drives.


The More Loyal Listeners Are To Public Radio, The More Likely They Are To Keep Listening

Just over half of the public radio audience continues to listen during on-air drives. However,

The stronger listeners' connections to public radio, the more likely they are to continue to listen during on-air drives.

A greater proportion of the core (six-in-10) continues to listen than the fringe (less than five-in-10). Likewise, six-in-10 current givers and four-in-10 non-givers continue to listen.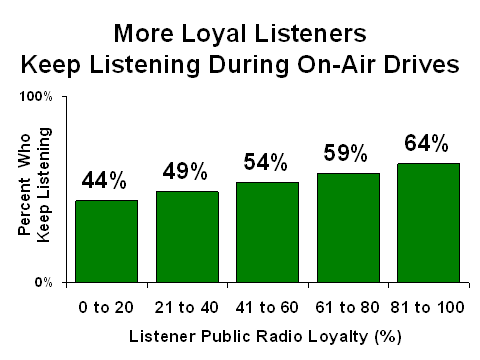 Listeners Think On-Air Drives Are Becoming More Prevalent

We do have to contend with the fact that

three-fourths of our listeners perceive on-air drives to be more prevalent than in the past.

Even among those who keep listening during drives, eight-in-10 think drives are more prevalent.

Listeners with greater financial means are more likely than others to believe drives are getting more prevalent. They are also more likely to tune out or listen less during drives. Perhaps their intolerance of on-air drives can be traced to the additional media options that their greater incomes afford them.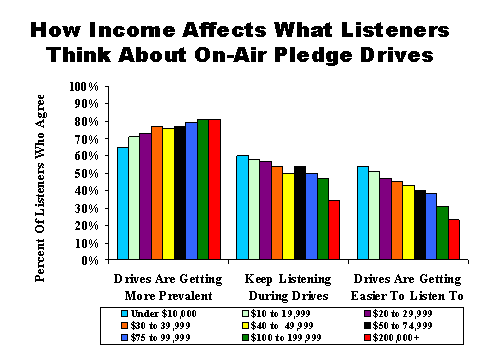 On-Air "Advertising" Is Perceived As More Prevalent
In an interesting convergence of opinions,

almost two-thirds of the respondents perceive both that on-air fund drives AND on-air mentions of business support are more prevalent than in the past.

Public radio's differentiation from commercial stations may be at risk in the minds of listeners who do not distinguish between the prevalence of public radio's form of "advertising" and the prevalence of advertising on commercial radio stations.

If differentiation from commercial radio is important, our ability to turn listeners into givers could be jeopardized.




Pledge Drives Are Not Easier To Listen To

While four-in-10 public radio listeners think pledge drives are getting easier to listen to, six-in-10 don't. Those with higher levels of education and higher incomes are less accepting of drives than those with lesser education or financial means.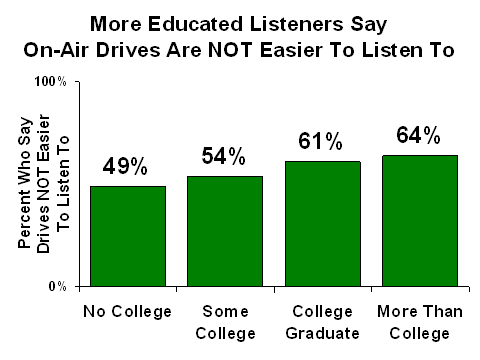 Almost half think drives are more prevalent and no easier to listen to than in the past. Even among those who continue to listen during drives, the programming of these drives is critical.




Are Fund Drives Jeopardizing Giving?

It could be that changes in sound and content during drives may be altering public radio's appeal to its educated audience.

Listeners with the most years of formal education are the most likely to say drives are getting harder to listen to.

This means our drives must better maintain the level of intelligence and standards as the programming people hear every day.

Listeners with higher incomes are also more likely to say that fund drives are getting more prevalent and that they are getting harder to listen to.

We know that household income does not significantly predict listeners' willingness to give or the size of their gifts. However, could these prevalent attitudes among higher income listeners be the reason we can't connect higher income to giving?




How Public Radio Might Use These Findings

The best and most useful news about on-air fundraising is that those who perceive that drives have become easier to listen to will keep listening.

It's also heartening to note that six-in-10 of our more committed listeners – our core and current givers – say they don't tune out or listen less during drives. They are listening to our drives, and that offers us the opportunity to request additional and/or larger gifts.

Making drives shorter could be key to minimizing tune-out during drives, if we make an explicit deal with listeners to give early in exchange for fewer days of fundraising. Remember that each time a person is driven away by a fund drive, we create an opportunity for that listener to find another station that's more likeable and listenable.

No matter how listenable we make on-air pitches, there will still be listeners who tune away. For them, solicitations for renewals and additional gifts will need to travel through other media such as mail or phone.

We have the talent to create intelligent, appealing programming most of the year; can we not apply this talent to improving drives?

– Vicki Staudte
Director of Market Research, Minnesota Public Radio
AUDIENCE 98 Associate

For More Information
In this keynote report Vicki Staudte of Minnesota Public Radio examines "The Effects of On-Air Pledge Drives on Listeners." The bad news is that they are not well regarded among listeners. The good news is that listeners are more likely to stay tuned when they get easier to listen to. The "sound" of our drives is something over which we can exercise influence.

David Giovannoni examines the inherent strengths and weaknesses of on-air drives in two "point-counterpoint" Adagios. On air drives work because they hit the

Bull's Eye; but notable Collateral Damage is the result.

The problem lies in a single pitch's inability to distinguish between givers and non-givers.

How Many Listeners Are Givers? makes the dilemma explicit. One in three persons listening at this moment is a giver. Any on-air pitch must hit that exact ratio. However, smart placement of pitches can favor reaching one group over the other.

Leslie Peters uses AUDIENCE 98 data to remind us why

It Don't Mean a Thing When Those Pledge Phones Don't Ring. Pitches are catalysts that engender a pledge; they are not the cause. What creates a pledge is a longer-term relationship between the listener and all programming on the station.

AUDIENCE 98 conducted a special analysis of Arbitron diaries to determine if and how on-air drives disrupt listening. The technical report,

Triangulating On The Effects Of On-Air Drives, puts this study into the context of information from focus groups and the Public Radio Recontact Survey.

Jay Youngclaus is

Driving Home The Numbers when he reports that stations in this special study are in pledge mode one out of every 29 hours they are on the air.

In

Formats And Fund Drives Steve Martin, Program Director of WAMU in Washington, tests the theory that news/talk listeners are more willing than music listeners to stay tuned to on-air pitches (they aren't).

He concludes this report by asking

Where Do We Go From Here? Steve calls this new information "a ringing wake up call" that public broadcasters would do well to answer.

Navigate the Report


Examine the Statistical Analyses Behind the Report, Part 1
(205 pages; 928,249 bytes)

Statistical Analyses, Part 2
(28 pages; 78,946 bytes)

Statistical Analyses, Part 3
(45 pages; 191,993 bytes)


Examine the Analyst's Notes, Part 1
(7 pages; 14,558 bytes)

Analyst's Notes, Part 2
(3 pages; 12,238 bytes)

Audience Research Analysis
Copyright © ARA and CPB. All rights reserved.
Revised: September 01, 2000 12:38 PM.